Port Angeles Restaurant Reviews
Port Angeles Restaurant Reviews: Gordy's Pizza & Pasta
We appreciate the kind remarks of our guests and friends!
Privacy
Your Email Address & Other Personal Information We don't share (give or sell) your email address or other personal information with anyone unless we have your explicit permission.
BUSINESS OWNERS THAT USE LOCALS.REVIEWS
We require businesses to adhere to this privacy policy in order to use our program.
SPAMMING YOU?
Nope. We won't be sending you a bunch of emails that you don't want and did not request.
Terms of Use
As a local customer, you may freely use the Local's Reviews program as often as you like. By using this platform, you are agreeing to the following:
You will provide objective, informative, and honest feedback for the business. Keep in mind that this information is being read by the business owner as well as other locals that may be considering doing business with them.
You will refrain from abusive language or name calling.
You understand that local consumers will be reading your feedback that you have provided for the business so you may address them as well.
You will be "scoring" the business between 1 and 10 points (NPS or Net Promoter Score), which will be converted to 1 to 5 stars.
Your feedback may be posted publicly on the Local's Reviews website, the Local Business' website or social media pages and may also be used in print media or other marketing pieces or platforms.
If you check the box [Make my feedback private. DO NOT publish as a review.], your Feedback will NEVER be displayed publicly. Businesses that use this platform CANNOT override it.


We are sorry you were disappointed and will be in touch with you soon. Thank you for taking the time to leave a review.


"Great Pizza & Pasta!"
Consistently highly rated by locals. Lots of Italian decor ambience. large restaurant. Good food. Great sandwiches, too.

Ruth M.
Sequim, Washington
"Great crust, lots of toppings"
We ordered delivery pizza from Gordy's- they brought it right to our hotel room door, complete with paper plates, serviettes, knives, forks and even packages of parm and hot peppers. It only took about 35 minutes to come as well. Very impressive.

The pizzas were hot, the crust was great and they were not stingy with the toppings.

There was lots left over to heat up for lunch the next day, and it was just as good the second time around. Not the cheapest pizza we've ever ordered, but you get what you pay for.

Would order from here again for sure.

Lucy Dodd
Canada
"Delivers to the Olympic Lodge :D"
We ordered from these guys since they delivered to our hotel room and what we got was an excellent pizza. I ordered a medium with chicken and mushrooms and the crust just really makes this pizza. Not thin crust, but just on the edge of it with nice texture and crisp taste. We reheated this pizza the next day and it was still delicious.

We also got a Caesar side salad which was good. The only part of our meal we weren't overly iimpressed with was the free garlic bread that came with the salad. It was a touch soggy, but the butter and overall taste was still quite good. Would definitely recommend giving Gordy's a try!

Seattle, WA
"Excellent pizza for a reasonable price"
Just happened upon this restaurant. You order at the counter and then they bring the food to you. We ordered personal size pizzas and had salads and drinks. I'm a picky pizza eater, and my pizza was outstanding!!!

They have a large selection toppings so you can design your own, which is what I like to do. They, of course, also have a large selection of pre-designed pizzas, which is what my family likes. The price was very reasonable. We will definitely return the next time we are in the area.

Washington State
Pricey ... and worth every penny"
Amazing...period. Food here is prompt and fantastic, if a bit pricey, and unless you're a lumberjack order the half size; it's plenty. The lasagna was soft without being mushy or over crunchy, the meats were perfectly seasoned and the whole was wonderful.

The Chicken Asiago was equally excellent, but all agreed the smoked salmon fettucine was the best meal any of us had experienced in quite a while. The cheese sauce was truly outstanding and perfectly accented the smoky and not too salted salmon.

Don't miss the chocolate Heaven mini-brownies and lovely Italian decor that instantly relaxes and soothes. They were open later than their contemporaries and was so exceptional that eating here was a highlight of our entire trip.
KaTe2
St. Helens, Washington
"My Favorite Place to Eat"
Gordy's Pizza & Pasta is one of my favorite places to eat in Port Angeles. I have lived here since 1993, and I frequent Gordy's. Whenever I am asked by an out of town visitor where to get really good food, I can confidently recommend them to Gordy's.

Doug Nevill
Port Angeles, Washington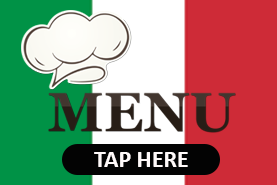 We are Open:
Sun - Thurs: 10am - 9pm
Fri - Sat: 10am - 10pm